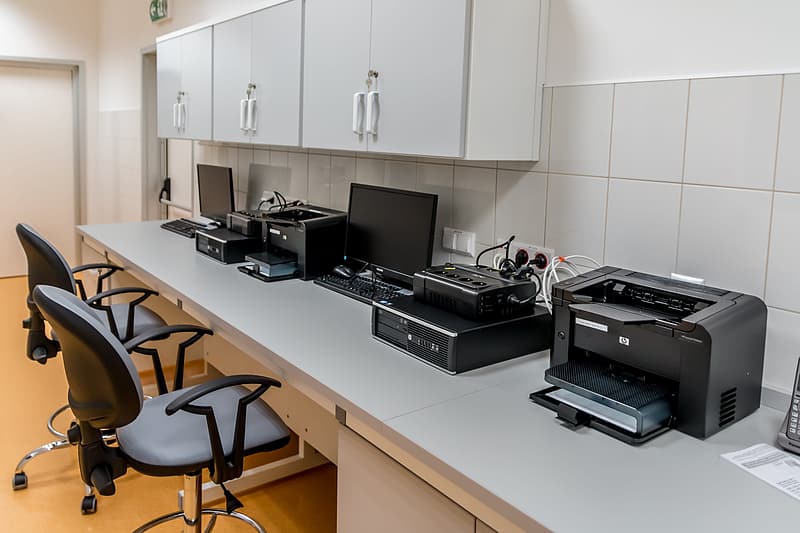 Faxing from a home printer is not an entirely difficult exercise. The procedure may vary slightly across printer brands. But there's a basic "how to fax from home printer".
It's easier to fax from your printer if it has the fax feature. However, printers that do not have the fax feature can use an online fax service. It's easier, though, to use the online service if your printer has the scan and copy features.
This article will show you, in easy to follows steps, how to fax from your home printer.
Let's begin, shall we?
What Do You Need to Fax From Home Printer?
To fax from your home printer, you will need the following:
i. A printer
ii. A phone (landline). One we recommend would be the AT&T DECT 6.0 Expandable Cordless Phone.
iii. An internet-enabled phone or computer for printers without the fax feature
iv. A document that you want to fax
How Can You Fax From Printer Without Fax Feature?
You can fax from a printer without a fax feature using an online fax service. Online fax services enable you to send a fax from your internet-enabled device. You'll have to scan the document you want to send, then upload it to your device.

You need a fax number for any method you use. Some fax services allow you to choose your number when registering. You can find a platform that offers you a free trial before you buy their service. The trial period will help you decide if you need their services or not.
How Do You Find Out if Your Home Printer Can Fax?
There are three major ways to find out if your home printer can fax:
i. The presence of a "fax" button on the printer. In some cases, printers that copy and scan also fax.
ii. It has one or two telephone ports. The presence of a telephone port means a phone line can be connected to the printer.
iii. Check your printer's product information. Some multifunction printers possess a fax kit. When it is added to the printer, it gives the printer the ability to fax.
Find out if your printer has this from your manufacturer.
If your printer lacks the fax, then you need to consider these 12 factors when next you get a home printer.
How Do You Send Fax From a Printer With Fax Feature?
There are 2 major methods you can use to send fax from your home printer. They are:
i. Using the printer's document feeder
ii. Using print driver
Let's discuss these methods in detail.
How to Send Fax Using Printer's Document Feeder
The following steps are how to send fax using your printer's document feeder.
Step 1: Choose the Fax function. You can operate your printer the same way a fax machine is operated.
Step 2: Place the document you want to fax in the document feeder.
Step 3: Dial your recipient's phone line and press the button labeled "Send".
Step 4: Immediately the connection is established with the fax machine of your recipient, the fax is sent.
Step 5: After the fax is sent, your printer will print a confirmation page with details of the sent fax. The details include the date, time, and the number of pages sent.
We recommend the HP ENVY Photo 7855 when it comes to home printers that fax with this method.
How to Send Fax Using Print Driver
To send a fax using your print driver, you'll go through the normal process of printing with a slight alteration. This will be easy of your print driver has a fax option. Your computer should be connected to the internet too.
Here are the steps you'll follow below.
Step 1: Call up the print dialog on your computer.
Step 2: When the print dialog appears, choose the print driver labeled as "fax".
Step 3: Enter the detail (i.e. fax number) of your fax recipient in the provided section.
Step 4: Press "Send" to transmit the fax to your receiver.
For this method, among other printers, we recommend the HP OfficeJet 3830.

Find more ideas on what to do with your home printer from these articles:
Video: How to Send Fax From Home Printer
Watch this "how to send fax" video below.
Can You Receive Fax on Your Home Printer?
You can receive fax on your home printer. This is because fax is a two-way communication. Printers have their built-in methods of receiving fax.
In most cases, your home printer will automatically receive a fax and print it. The only issue will be when there is no paper or ink.
This does not mean you will lose your fax; rather your machine will save it and print it when the paper or ink is replaced.
How Can You Receive Fax on a Multifunction Canon Pixma Printer?
You can receive fax on your multipurpose Canon Pixma printer when you set up the options for receiving fax through the fax menu. Follow these steps to set up your Pixma printer to receive fax:

1. Turn your printer and hold down the fax key. Next, click on Menu to show the Fax Menu on display. All the keys and options are on the control panel.

2. Hold the right arrow until you see receive mode setting highlighted. Now, click OK.

3. You'll then choose the method you wish to receive your fax through. You have up to 4 options; the direction arrows help you to navigate the options.

4. When you've selected it, click OK on your control panel, then back. The Standby or Status display shows that your Pixma can now automatically receive faxes.
What Are the Available Options for Receiving Fax on Your Multifunction Canon Pixma Printer?
There are 4 available options for receiving fax on your Canon Pixma printer. These options include Fax Only Mode (FOM), Tel Priority Mode (TPM), Fax Priority Mode (FPM), Distinctive Ring Pattern Detection (DRPD).

Choose FOM if you have your printer connected to its own phone line. If your phone line is used more to receive calls than faxes, then select TPM. If the main purpose of your Pixma is to receive faxes, choose FPM. And if your phone line can detect ring patterns, choose DRPD.
How Can You Receive Fax on Your Multifunction HP Printer?
You can receive fax on your multifunction HP printer by setting up the fax menu on your printer control panel properly. The set up allows your printer to do one of the following with your faxes automatically:

1. Print them

2. Route them to your email

3. Save them to a designated folder on your computer

To manually receive fax from your printer, press the fax button on the control panel when you get a fax call.
Final Words
Sending a fax is not a complicated matter, as some persons might think. Provided you have the necessary requirements as we stated above, you can send a fax — and receive one — with no stress.
Do let us know, in the comment section, how you have been sending and receiving fax over the years.
How to Fax From Home Printer — Frequently Asked Questions
Can a Printer Fax Over WiFi?
A printer cannot fax directly over WiFi. You'll need your computer and an online fax service. With your printer connected to your computer, you can scan the document you wish to fax and save to a folder. Your fax will be sent through the internet.
Begin with signing up to a fax service; the internet will give you a lot of options. Your fax service provider will give you a fax number that'll enable you to automatically receive fax. To send a fax, you can use the member's area of your online fax platform. Your document will be extracted from your computer, converted to fax format, and sent to the recipient.
To read more awesome articles, click any of the links below…
How to Print Poster Size on Home Printer

What Can You Make With a 3D Printer at Home — 43 Cool Ideas

How to Print Gold Ink From Home Printer — 2 Proven Methods

How to Buy a Printer for Home Use — 12 Factors to Consider

How to Print Money at Home with a Printer — 6 Simple Steps
Is it Safe to Send Fax Online?
It is safe to send faxes online, just like it is safe to send emails and other internet-related documents. Faxing allows you to send across handwritten documents, thereby authenticating your document with a signature. However, you can take extra measures to ensure that your online fax service is not compromised.
First, be sure that the online fax platform you are using has an SSL encryption. This encryption helps to keep your documents safe while using the platform. Just check that the website begins with HTTPS not HTTP.
Then, set up a confirmation email for your online fax account. This way, when you send a fax, you'll get a notification from your email provider asking you to confirm if it's you.
Can I Send a Fax from Gmail?
You can send a fax from Gmail. But you will need to sign up to an online fax service that supports using Gmail or any email to send fax. The process is quite simple if you have the domain value of your fax service and the fax number of the recipient.
First scan the document you want to fax on your printer and save it to a folder on your computer. Then open your Gmail (or email). Compose a mail and enter the recipient number [faxnumber@faxservicedomain] in the TO section. Attach your file and cover letter. Then send.
Do I Need a Landline to Fax?
You don't need a landline to fax if you're using an online fax service. However, if you're faxing directly from your printer, you need a landline phone line. You have to connect your printer to the phone line to enable it to communicate with your recipient's fax number.
Fax is primarily designed to send digital information over phone lines. The connecting fax lines need to recognize each other before they can successfully send and receive information. This is why online fax services have to provide fax numbers.
How Do I Find My Printer's Fax Number?
You can find your printer's fax number by using your printer to dial your phone number. Start the fax process on your printer, but enter your mobile phone number. This means that you press Start, then send fax. In the dialog box for recipient number, enter your mobile number. Next, press black.
Your printer will dial your mobile number. When the phone rings, end the call and copy out the phone number that appears. That's the telephone number of your printer. However, be sure that you have input the information of your fax line in your printer during the setup.
Why is My Fax Not Sending?
Some of the reasons your fax is not sending include the following: 
Not dialing the correct recipient number. Attempt typing the number manually. Also, type the number in this format: [1(area code)fax number]
Technical issues from your printer or fax machine. Send a fax to your printer and see if it goes through 
Technical issues from your recipient's fax device. Send a fax to another phone line and see if it goes through
Disconnected or bad phone cord. Listen for a dial tone when you send a fax
Your fax is not sending and there can be many reasons for this. Troubleshooting will help you sort out what the problem is.