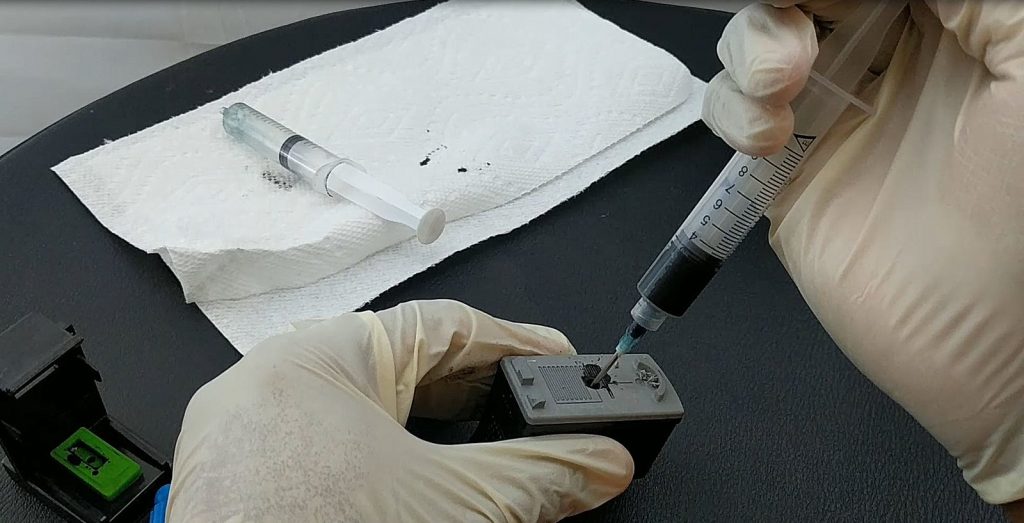 When last did you buy an OEM ink cartridge? Did you notice how expensive it was?
If you do that every time you run out of ink, you'd spend as much as you'd need to buy a new printer in less than one year.
Refilling your empty ink cartridge costs way less than having to buy a new cartridge. And this is a very welcomed idea.
Ink refill kits with all its syringes and drill bit may seem a bit daunting. However, refilling your printer ink cartridge is a no brainer.
Here's how to refill ink in printer cartridge at home in 8 easy steps. We are here, as always, to walk you through the entire process.
What Do You Need to Know?
You need to know that some printers have ink tanks, and some others use ink cartridges. Ink tanks require you to fill these tanks by yourself. An example of this type of printer is the Epson Ecotank.  
If you need to fill your Epson ET-2700, ET-2750, ET-3700, ET-3750, ET-4750, check out the Epson T502 EcoTank Color Combo Pack
You cannot follow the steps in this article if your printer uses ink tanks instead of ink cartridges. This is because the procedure for filling up an ink cartridge is different from that of filling an ink tank.  
To refill your printer ink cartridge, follow the steps below.
8 Steps to Refill Your Ink Cartridge
These are the 8 steps to refilling your ink cartridge:
1. Set Up a Work Area

2. Take out The Cartridge from the Printer

3. Check the Cartridge for a Fill Hole

4. Drill a Hole If You Don't Find One

5. Fill the Syringe

6. Inject the Ink into the Cartridge

7. Seal the Hole

8. Clean out Printer Head and Run a Test Page
Set Up a Work Area
You have to set up a work area. It'll help you not to get ink stain anywhere. Ink stains can be really stubborn. This is why you need to set up a work area away from your important stuffs.
When you decide on where you want to do your work, gather enough paper towels around the area. Put on a rubber glove and make sure any cloth you have on is dispensable.
Take out The Cartridge from the Printer
How to achieve this differs in printers, but it is not a difficult task. You can check the printer's manual to know where the cartridge is in the printer. The manual should also contain steps for the cartridge's removal.
Where Can You Find Ink Cartridge in HP Printer?
You will find the HP ink cartridge when you lift the top cover of the printer. If the printer uses both black and colored ink, they'll usually have their slots aligned in different directions.

For example: in HP Deskjet D4360, the black cartridge is in the right slot while the tri-color cartridge is in the left slot. Avoid touching the copper contacts and the ink nozzle when you take out the cartridge. Any contact will affect the print quality after now.
Check the Cartridge for a Fill Hole
 Some cartridges, like HP Cartridges, come with ready-made fill holes. To find this hole, simply open the label on the cartridge.
If your cartridge has different ink colors, then there will be a fill hole for each color.
If there is more than a hole on your monochrome cartridge, only one is your fill hole. To find out which of the holes is your fill hole, look into each. The fill hole will have a spongy material inside.
Drill a Hole If You Don't Find One
If your cartridge does not have a fill hole, then you will have to drill one by yourself. Drill the hole on the plastic top of the cartridge using a drill bit that is in your refill kit.
If your refill kit does not have a drill bit, you could use any pointy, piercing object you have. If you are using a multicolor cartridge, then you have to drill a hole for all the colors. 
How Can You Drill a Hole on Your Cartridge?
To drill a hole on your cartridge, remove the label from the cartridge and place your drill in the middle of the box. Apply pressure as you turn the drill around, creating space enough to take your needle. When your hole is complete, stop. You're ready to inject ink using your syringe.
Fill the Syringe
Put the needle of your syringe into the ink bottle then draw enough ink to fill your syringe. Be careful not to suck in air.
Inject the Ink into the Cartridge
Put the syringe needle in the fill hole. Keep pushing it down till you reach the spongy end of the hole. Then begin to gently inject the ink into the cartridge.
Make sure you do this as slowly as possible. Because you may make air bubbles if you inject the cartridge too quickly.
Once you notice a bit of ink ooze out of the fill hole, you have filled the cartridge to the brink. Stop filling the cartridge with ink at this point. Gently remove your syringe from the fill hole. 
Find more ideas on what to do with your home printer from these articles:
Seal the Hole
If your refill kit comes with a stopper, then use it to seal the fill hole. If you do not have a stopper in your kit, you can simply use tape to seal the hole.    
Video: How to Refill Ink in Printer Cartridge At Home
Watch this video for a visual explanation of all the steps discussed.
Clean Out Printer Head and Run a Test Page
You have to ensure your printer head is clean enough. This is because if your printer head is not clean, your prints will come out smudged.
To clean the printer head, dab at it using a cloth. Do not stop until the stain left on the cloth is a clear rectangle.
When you're done cleaning your printer head, put your cartridge back in the printer and then print a page. If your print has blots and smudges, then clean the printer head again.
An overfilled cartridge may also cause smudging. In this case, draw out the excess ink from the cartridge with your syringe.
Check out this article for a fun idea to try out on your home printer.
To refill your ink cartridge, you can use the BCH Standard Refill Ink Kit.
BCH Standard Refill Ink Kit, Suitable for All Printers, 600 ml
BCH standard printer ink helps you save a lot of money when you buy in bulk. BCH inks are suitable for both pigment and dye cartridges.

Get quality print at a reasonable price. BCH inks offer clear and quality print.

Designed in the USA. Contains six bottles of 100 ml: 3X Black + Cyan, Yellow, and Magenta. Includes other useful tools: hand drill, 4Xsyringes, gloves, and 4X long blunt needles.

Online videos and manual. Does not come with a paper manual, however, information can be found on the box of the product.
Prices pulled from the Amazon Product Advertising API on:
Product prices and availability are accurate as of the date/time indicated and are subject to change. Any price and availability information displayed on [relevant Amazon Site(s), as applicable] at the time of purchase will apply to the purchase of this product.
Conclusion
Now you should be able to refill your ink cartridges in no time. All you need to do is follow the steps we have adequately described.
If you have questions, let us know in the comment section below.
How to Refill Ink in Printer Cartridge At Home — Frequently Asked Questions
Can I Use Any Ink to Refill My Printer Cartridge?
You can only use a compatible ink to refill your printer cartridge. Manufacturers will usually specify the type of ink your printer is using. You can buy the original ink from your manufacturer, or you can buy the equivalent from a third-party manufacturer. 
Following the specification of your manufacturer when replacing your printer's ink will save you from ruining your printer head. The specification here means the type of ink that your printer is designed to use. For example, using a pigment-based ink in a dye-based ink cartridge may result in your printhead clogging. 
Bear in mind that if a third-party ink causes your printer to malfunction, your warranty becomes void. 
Why is Printer Ink So Expensive? 
Printer ink is expensive because this is the manufacturer's major source of making money from customers. Most printers are sold at a cheap rate to grab the loyalty of the customer. But, manufacturers understand that to run your printer throughout the year, you need ink. Therefore, they place the printer at an almost "give away" price. 
There are third party inks to help you manage the cost of running your printer. However, some printers will reject a third-party printer because of a built-in mechanism. This mechanism allows OEM brands to keep a monopoly of the printer-ink market. In some cases, though, you may get your refill company to troubleshoot the restriction for you.
To read more awesome articles, click any of the links below…
What Is the Most Economical Printer for Home Use — 18 Cheap Printers

How to Make Black Ink for Printer at Home — In 7 Easy Steps

How to Print From Cell Phone to Home Printer — Basic 101

How to Connect Epson Printer to Home WiFi — In 7 Easy Steps

How to Hide Printer in Home Office — With 8 Amazing Ideas

How to Buy a Wide Format Home Printer — The Ultimate 411
Is Refilling Ink Cartridges Bad for Printers? 
Refilling ink cartridges is not bad for printers, but some persons will notice that it affects your print work. Refilled ink cartridges will produce prints with a reduced quality if you buy a bad one. This quality includes sharpness of the print and its archive life-span. The cartridge can also begin to leak ink from the refill hole and soil your paper. 
When choosing a refill ink, there are two important factors to check for. One is how bright and sharp the print quality is. The second is how long it will take for the prints to begin fading. You can run a check and compare with the original brand, or look for reviews before you make a purchase.  
How Many Pages Does an Ink Cartridge Last? 
The number of pages your ink cartridge will print depends on the type of work you print. Manufacturers try to estimate a page yield for their cartridge, but this yield is only based on 5% of the print page. This 5% can typically be described as printing a standard email (about one-third of the page). So, if you print a full page or a picture, this might be a lot more complex to calculate.
You'll find the page yield of your printer on its product description. This is followed by its page coverage. While the standard coverage is 5% for text prints, pictures will have a coverage that is between 50% and 90%.
Why Does My Ink Cartridge Run Out So Fast? 
Ink cartridges will often run out fast depending on the quantity of work you print, how often your printhead self-cleans, and your printer setting. Assuming a manufacturer states their print yield to be 225, you can only get that yield if each of your prints cover 5% of the page. For pages with more words, the prints consume more ink. As such, the ink cartridge will finish faster.
Also, printheads are designed to self-clean often. This mechanism helps to unclog it, but it consumes ink as well. You can set it to manual cleaning to enable you to control the frequency. Then, set your printer to greyscale if you need to print only black and white.
How Do You Fix a Dry Ink Cartridge? 
You can fix a dry ink cartridge by running a printhead cleaning or soaking the cartridge in warm water. Bear in mind that you can only soak a cartridge if the printhead is not built into it. Printhead cleaning helps to unclog it, and requires that some ink is inside that cartridge.
If the cartridge has totally dried out from a long period of unuse, you should soak it in warm water until ink begins to seep out. Dry the nozzles with paper towels and replace the cartridge.
For ink cartridges that have built-in printheads, you should replace the cartridge if it is drying out too often.