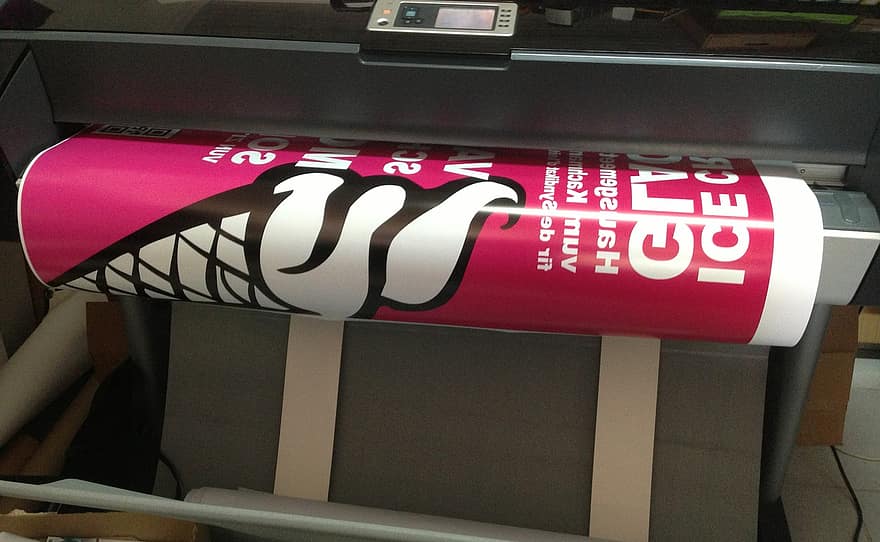 You have a small event coming up, so you decide to print a poster size from your home office printer.
A better way to print the poster or banner will be to use a wide format printer.
Wide-format printers are not exclusively for those not in the printing business. As a small business owner or someone who hosts small events often, having a wide format printer can be helpful.
So, should you own one of these? What can they do?
What factors should you consider when buying them?
We'll answer these questions in this article.
What Are The Factors You Should Think About When Buying a Wide Format Printer?
The major factors you should think about when buying a wide format printer include:

1. Your printing needs

2. What to print on the wide-format printer

3. Printer cost

4. Printer location

5. Printer speed

6. Operating the printer
Your Printing Needs
This is the first factor you need to consider when you're thinking of buying a wide format printer.
You must understand that these kinds of printers are not your regular desktop printers like the Canon PIXMA TR4520; they are designed for printing larger paper sizes than the home printer uses.
Ask yourself the following questions as you consider your printing needs:

i. Do I need to upgrade my printer?

ii. Do I need to increase production?

iii. Do I print a lot of large formats?
i. Do I Need to Upgrade My Printer?
Consider if your printer is outdated and you feel the need to get an updated printer with better image production.
ii. Do I Need to Increase Production?
Depending on your project, your current home printer may not be meeting up. And if you are into the printing business, this could be a defining decision.
iii. Do I Print a Lot of Large Formats?
If you normally print large formats, then purchasing a wide format printer is a worthy investment. It will also save you the money you spend on outsourcing your print jobs.
What to Print on the Wide Format Printer
What to print talks about the kind of documents and files you'll be printing, while your printer needs deals with why you need a wide format printer.
Wide-format printers are designed to print on different materials and for specific applications. So you'll have to decide on what you'll be printing in order to select the right printer.
Common printing categories are fine art, photography, indoor signage, vinyl banners, textiles, vehicle stickers, and murals.
Here are examples of some printing applications and wide format printers designed to print on such materials:
Direct to garment printing: The AnaJet MP5i Direct to Garment Printer is one of the best in this category and is renowned for its high performance and quality.

Direct printing on metals, acrylic, wood, plastic, etc.: A highly recommended wide format printer that is known for its quality and precision in this category is the Mimaki UJF-7151.

Photographic printing and commercial proofing: We recommend the Epson P9000.

Printing on fabrics (signage, flags, etc.): A good recommendation is the Refretonic Digital Textile Printer MT-TA3; capable of printing high quality and volume.

It is important to know that the material you'll be printing on determines the kind of ink you'll use.
Find more ideas on what to do with your home printer from these articles:
How to Set Up Home Printer Wifi — 4 Easy-to-Follow Steps

What Can You Make With a 3D Printer at Home — 43 Cool Ideas

How to Buy a Printer for Home Use — 12 Factors to Consider

How to Make Black Ink for Printer at Home — In 7 Easy Steps

How to Share a Printer on a Home Network — 2 Proven Methods
Printer Cost
Okay, so you know your printing needs and you know what you'll be printing on; that's good. That means the next question you need to ask yourself is: "Can I afford it?"
These printers are large heavy-duty machines which means they won't be costing peanuts. You need a lot of green for these babies.
Wide-format printers' prices range from $3,200 to $200,000. For example, the Canon imagePROGRAF TX-3000 is sold around $7,125.64 at the time of writing.
The Printer's Location
What we mean by this is, where will you keep the printer?  We stated earlier that wide format printers aren't your regular desktop-sized printers. As their name suggests they are very large pieces of equipment.
Therefore, they require much space as well as a large working area. Some of these printers are known to emit volatile organic compounds while they print. This means, sitting close to these printers while they work can be quite dangerous.
For a home setting, this might present a huge problem. The safest option is to have a room dedicated as an office with sufficient space.
So, ask yourself, do I really need a wide format printer in my home?
Printing Speed
How fast do you want your jobs printed? You will have to go through the specification of any printer you want to buy to find out its turnaround rate.
Reviews are also a good place to find out about the performance of such a printer.
Generally, roll to roll printers are much faster than UV flatbed printers.
Operating the Printer
Unless you have converted your home into an office where you have other workers, it is most likely you'll be the one to operate the printer. Therefore, you need to ask yourself if you are ready to take on a new learning lesson.
As you might expect, wide format printers aren't as easy to operate as desktop printers. You need to study it in-depth to get used to its operation.
Getting a printer model from a seller that offers you continuous support is a welcome idea which we advise you to look for.
To read more awesome articles, click any of the links below…
What Is the Most Economical Printer for Home Use — 18 Cheap Printers

How to Make Black Ink for Printer at Home — In 7 Easy Steps

How to Refill Ink in Printer Cartridge At Home in 8 Easy Steps

How to Print From Cell Phone to Home Printer — Basic 101

How to Connect Epson Printer to Home WiFi — In 7 Easy Steps

How to Hide Printer in Home Office — With 8 Amazing Ideas
Video: How to Buy a Wide Format Home Printer
Check out this video about best buy large format printer
Conclusion
A wide format printer is not really a home printer; however, it can be used at home if proper measures are put in place.
Consider the convenience it will offer you against the downsides of having any one of these in your home.
If you have any questions or comments, please let us know in the comments section below.
How to Buy a Wide Format Home Printer: Frequently Asked Questions 
What Does Wide Format Printer Mean? 
A wide format printer is a printer with the ability to print on large paper between 18 inches and 100 inches. It's the best printer for making large posters and banners if you want to announce an event coming up. This is the next-size printer after home printers.
Wide format printers are best suited for little projects and events by small businesses and awareness groups. They are often inkjet printers and can print on a variety of papers, including premium glossy-coated paper. 
The most commonly used wide format printers are Aqueous printers. They are easy to use with quick turn-around-time. Another type is Solvent inkjet printer, which is best suited for making outdoor posters. 
What Format is Best for Large Prints? 
TIFF, EPS, and PDF are the best file formats for large prints. Saving your image or design file in these formats will often ensure that you print the same quality from any large format printer. The details of the design in terms of color and size can be interpreted with clarity.
TIFF formats are heavy but adaptable. They are great for printing images with high resolution and can open in a lot of software. EPS is the best format for posters and banners in vector format. PDF is the best file format for saving any document you want to preserve in their original format. Converting a large print image to PDF will take a while, but deliver the desired result. 
What DPI Should I Use for Large Format Printing? 
The DPI you should use for large format printing depends on three factors: the type of image, distance of the image from viewers, and the conditions for viewing the image. Generally, images that will be viewed from a distance will require lower DPI while close-range images require a higher DPI. 100 DPI is the average used by most large format printers.
For banners standing at a 6m distance, a DPI of 75 is suitable; 100 DPI for 3m to 6m distance and 150 DPI for 1m to 3m distance. The motion of the image is also important. Will the banner stay on a moving truck or on a billboard?
How Do Large Format Printers Work? 
Large format printers print a digital image directly on the material that you're using to produce the image. This eliminates the need for plates which were used years ago for making large prints. Four plates were used initially to present each CMYK color when making a large poster or banner.
With large format printers, you can print print images without burning plates onto a rubber blanket first. The turn-around-time of the printers are also fast with accurate representation of the print image.Large format printers can print on most materials including gloss papers and vinyl materials.
What is the Difference Between a Plotter and a Wide Format Printer? 
The difference between a wide format printer and a plotter is that one prints from raster files and the later from vector files. A raster file image is made up of dots that can be scaled to any resolution while vector files are filled with lines and curves that are not dependent on resolution. Both types of printer are used to print images with high resolution.
Plotters have been in use since 1970 for high-resolution image printing. You need a magnetic tape or plotter pen to reproduce an image from a plotter. Wide format printers are fairly recent. Printing is also faster on a wide format printer than on a plotter.
Who is Most Likely to Use a Plotter? 
Plotters are used mainly by engineers to render colored graphics with the help of computer-aided design (CAD) and computer-aided manufacturing (CAM) software. They focus on reproducing vector drawings of architectural designs and other forms of engineering or technical drawings. The multiple pens that are used by a plotter allow you to produce colored designs.
Plotters are not versatile with their use of paper. The best paper to use for a plotter is vinyl paper. They are also slow when used in printing, therefore there is not much demand for them in recent times.