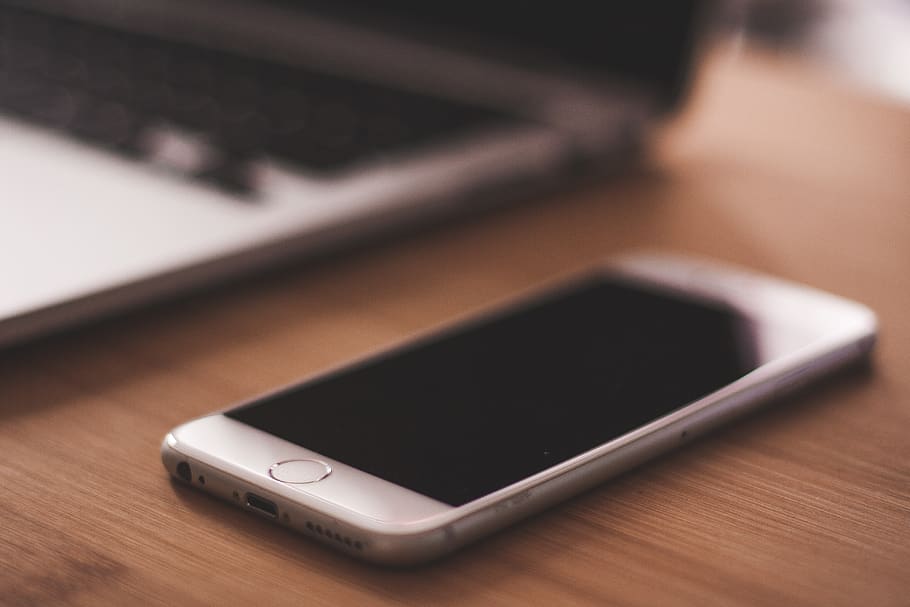 For most people today, the cell phone is an extension of their offices, if not their entire office. Smartphones and tablets are often used to store certain documents that need to be printed.
Therefore, in the next steps, we'll show you how to print from cell phone to home printer. It's quite easy.
How Can You Print From Your Cell Phone?
You can print from your mobile phone using features like AirPrint, Google Cloud, Google Print Drive, or the print application of your printer manufacturer. The steps will differ in some phones but, in most cases, you have to connect to a wireless network.

We've described how to print from mobile phones on HP, Canon, Epson, and Brother printers below.
How to Print from Phone on HP
Here are the steps for printing from iPhone, Android, and Windows phone on HP.
Printing from iPhone
AirPrint is used to print from Apple devices such as iPhones on HP printers. The software is pre-installed on the iPhone, therefore, you can print once your phone and your printer are connected to the same wireless network.
Just follow the steps below:
i. Open the document or page to be printed.
ii. Tap the button labeled "Share".
iii. Tap the "Print" icon. Then choose your AirPrint device.
iv. The document will then be printed on your HP home printer.
Printing from Android Phone
Android phones, like the Samsung Galaxy A30S, require the following steps for them to print on HP printers:
i. Go to Google Play Store. Search for and download the HP Print Service plugin.
ii. After installation, toggle it on so that printing is enabled.
iii. Tap "Print" from the menu of the document or photo you want to print.
iv. From the list of network printers shown, choose your HP printer. Let's say your printer is the HP ENVY 5055, just click on it to continue.
v. The document will then be printed on your HP home printer.
Video: How to Print From Cell Phone to Home Printer
The video below discusses how you can print from an Android phone to a wireless HP printer
Printing from Windows Phone
Windows mobile phones like the Microsoft Lumia 950 XL work the same way AirPrint does on iPhones. The only difference is that instead of selecting "Devices", as in AirPrint, you'll select your network printer.
Printing from Chrome Print
You can connect your Chromebook as well as any device that has Chrome OS browser to an HP printer anywhere via Google on the GO.
After registering the printer to Google Cloud Print, follow the steps below:
i. Open Cloud print app.
ii. Choose the web content or document you want to print either on the app or your Chrome browser.
iii. A print dialog will open and the document/page will be saved as a PDF. Choose the prompt labeled "Change" to choose your HP printer.
iv. Select your Google Cloud HP printer.
v. Select "Print" to print your document.
Find more ideas on what to do with your home printer from these articles:
How to Print from Phone on Canon
You need the Canon app to print on a Canon printer from your phone. It works on both Android and iPhones as most Canon printers are preinstalled with Google Drive Print and AirPrint.
Here's how to go about it:
i. Connect your cell phone and printer to the same network.
ii. Go to Google Play Store or iTunes App Store and download the Canon App.
iii. Open the photo or document you desire to print and choose "print". You'll see a print preview where you can customize your printing options.
iv. Select "Printer" in the preview section. This is where you will choose your Canon printer. For example, if your printer is Canon PIXMA TR8520, just select it to continue.
v. Tap "Print" to print your document.
How to Print from Phone on Brother
Brother printers are manufactured to connect with and print from cell phones through different mediums.
New printers are designed with preinstalled Google Drive Print and AirPrint which allows cell phones to print on Brother Printers.
These printers also have the iPrint&Scan app that works on iPhones, iPads, and Window Phones. iPrint&Label connects Kindle and Android phones.
All these allow easy management and printing of different documents.
How Can You Print from Android using Brother Printer App?
To print from your Brother printer, it should have the ability to connect to WiFi. Connect it to the wireless network and ensure you've downloaded the Printer app.

There are two printer apps: Brother Print Service Plugin and Brother iPrint&Scan.

Here's what to do next.

i. Install the app you downloaded and set it up for printing.

ii. If you have the plugin, there won't be an interface. However, you'll get a prompt to turn it and link it to your printer.

iii. If you have iPrint&Scan, you'll have an interface. Open the app to choose the function you want (i.e. Print). Follow the prompts to complete your printing.

Bear in mind that iPrint&Scan supports newer versions of the Brother printer. Be sure to check which of the apps supports your version.
How Can You AirPrint on Your Brother Printer?
To AirPrint on your Brother printer, confirm that the printer is connected to your wireless network. Also, ensure that your printer version supports AirPrint. If it does, you can print without installing any mobile app on your device.

When you've connected your printer to the wireless network, follow the next steps to print.

i. Turn on the WiFi on your mobile device. From the list of "ready to connect devices", select your printer.

ii. Find and open the page that you're about to print.

iii. Click the share icon and select print.

iv. Choose your printer and print.
To read more awesome articles, click any of the links below…
What Is the Most Economical Printer for Home Use — 18 Cheap Printers

How to Make Black Ink for Printer at Home — In 7 Easy Steps

How to Refill Ink in Printer Cartridge At Home in 8 Easy Steps

How to Connect Epson Printer to Home WiFi — In 7 Easy Steps

How to Hide Printer in Home Office — With 8 Amazing Ideas

How to Buy a Wide Format Home Printer — The Ultimate 411
How to Print from Phone on Epson
New Epson printers are designed with several software solutions called Epson Connect that allow wireless mobile connection printing.
This allows you to perform many functions such as remote printing, email, creative image printing, general printing, and scanning.
How Can You Print from Android with Epson Print Enabler?
To print with the Epson Print Enabler, first, connect your printer to a wireless network. Then download and install the printer enabler plugin from Google Play. The process is easy and straightforward.

Epson Printer Enabler can be used on Android 4.4 or higher. Follow the next steps to complete your printing.

i. Enable plugin on Settings when you click Printers

ii. Connect your Android to the printer network

iii. Choose an app (e.g. Gmail), select the page you want to print

iv. Click Menu icon, and print
Conclusion
Printing from your cell phone to your home printer is very easy as we've shown you above.
If you have any questions or comments, please let us know.
How to Print From Cell Phone to Home Printer: Frequently Asked Questions 
Can I Print Remotely on My Brother Printer? 
You can print from anywhere on your brother printer through Google Cloud Print if your printer is connected to the cloud. Many older versions of the printer do not have the cloud feature, therefore it's important for you to verify. Good Cloud Print allows you to send work from anywhere to your connected printer. 
If there is more than one person using the printer, you can share the printer on your cloud service. 
You can also print using the iPrint&Scan, iPrint&Label, and AirPrint features from your mobile phone. But, you need to be closer to your printer when using any of the features.
How Can I Print from My Phone to My Printer Through WiFi?
To print from your phone to your printer through WiFi, you need both devices to be connected to the same WiFi network. When you have connected them, the next steps will depend on your phone, printer, and the printing interface you're using. If you don't have an interface yet, check for the mobile app of your printer on Google Store. 
Most smartphones can also connect with Google Cloud Print. But you need to confirm that your printer is compatible with cloud print before you continue. 
Whichever feature your mobile has, following the prompts on your screen will lead to printing your work.
Do Wireless Printers Need WiFi? 
Wireless printers need WiFi or Bluetooth to establish connection with a printing device. Computers, tablets, and smartphones need a means to transmit the document you want to print to the printer. If your printer is WiFi-enabled, you'll need to activate the connection before you can send your work for printing.
WiFi, as an internet network connection, makes the printer a lot more versatile. Therefore, some WiFi-enabled printers can send emails, receive, and print from remote distances. The wireless connection also helps to declutter your home/office and make your work flexible.
Does a Bluetooth Printer Need WiFi? 
A Bluetooth printer doesn't need WiFi to print if you're printing through Bluetooth. Bluetooth connection on your printer allows it to connect directly to your device, within a 10m distance. All you need for this connection is your mobile device and printer. The advantage is that you can print even if you're out of network coverage.
A lot of printers today have inbuilt WiFi and Bluetooth connectivity. You don't need one to access the other; they're independent. Some old printers that lack this ability can benefit from a USB Bluetooth adapter. These adapters can be gotten for $20.
How Far Away Can You Print from a Wireless Printer? 
If you're printing through WiFi from a wireless printer, you can get your print job from a 100m distance. If you're printing on a Bluetooth connection, you need to be within a 10m distance to keep your device visible. If you're printing on Google Cloud Print, you can print from anywhere if your printer is compatible with cloud. 
The expected print distance of your device from your printer can be found in your user manual. Manufacturers will often have their own printer specifications. However, you should be able to print from any corner of the room if you're working in a small office.
Are All Printers Wireless Now? 
Most printers today are wireless but they still accept wired connections using ethernet or computer cables. In some cases, people who order for printers find that the package is not shipped with a cable. They have to get their cable.
While wireless printer connections offer a lot of convenience with declutter and on-the-go printing, you may be one of those who prefer using a cable. In this case, opt for a printer that has ports for cable connections and make up your mind to provide your cables, in case the box does not contain any. You'll find many printers that offer both wireless and ethernet connectivity.